Hello everyone and welcome to Purple Vibes Hop!
Once more, 12 artists from all over the world united to share with you our creations, techniques and crafty tips. The challenge this time was for all of us to use Purple as the dominant color in our projects.
With this hop we wish to spread love and positive vibes to the four corners of the world and to celebrate the most cheerful season of the year, Summer!
For this special occasion I decided to present you a mixed media canvas.
Purple Fantasy


I really hope you enjoy the video and get inspired for your next projects.
For my project I was very much inspired by a famous Czech painter and iluustrator, Alphonse Maria Mucha. Mucha's style was very distincitve and evolved to what we know as Art Nouveau.
I worked on a cotton canvas that measured 8" x 23.5". For my focal point, I chose to sculpt a face coming out of a mirror.
A
s I am always seeking for natural textures. I created a background by using stone effect pastes. I also used metal embellishments to ornate my project.
I also created a big flower composition around my focal point.
Different shades of purple combined with blue-greens was my choice for coloring this creation.
So, come along with us to this artsy adventure. You will have the chance to view so many different and unique projects, but also to win wonderful gifts!
Hop over to the other videos to watch many more beautiful projects form my super talented friends!
These are the links to the 12 videos, but you can hop form one to the next one using the end screen you will find at the end of every video:
Our hop is sponsored by many awesome and well-known brands, plus some of the artists are offering personal giveaways.
Aga Baraniak

: 1 x generous craft goodies kit

Canvas

Corp Brands: 1 x $50 voucher

Cuts2luv

: 1 x $15 voucher + shipping

Dadarkar

: 1 x generous craft goodies kit + shipping

Expression Craft

: 2 x $25 vouchers

Lindy's Stamp Gang

: 2 x $25 vouchers

Linkdeli

: 2 x $20 Paypal vouchers

Little Birdie

: 2 x $50 value craft goodies kits + shipping

Papericious

: 1 x $15 voucher

Rubber Dance

: 2 x $20 vouchers

SnipArt

: 1 x generous craft goodies kit

Stencil Girl

: 1 x $50 voucher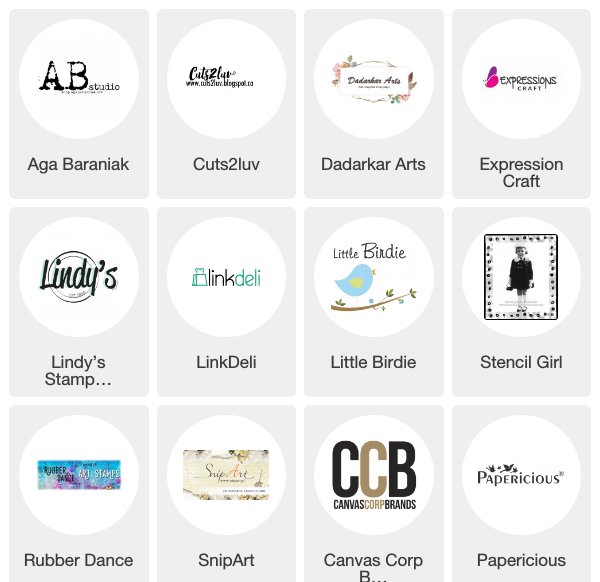 To get the opportunity to win one of those goodies, please read the following rules very carefully
——— RULES FOR THE GIVEAWAYS ———
To enter the sponsors' giveaways you MUST:
Watch and comment on all 12 videos
Subscribe to all 12 channels
You have until June 27th to watch, comment and subscribe
Winners will be chosen randomly among those who followed the rules and will be announced on June 28th in our social media
Not mandatory, but please share and tag your friends!

I wish you all have GREAT FUN!!!